Time is money. Know how you spend it online.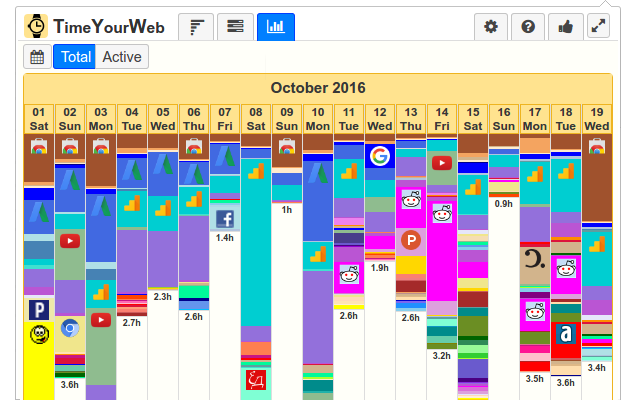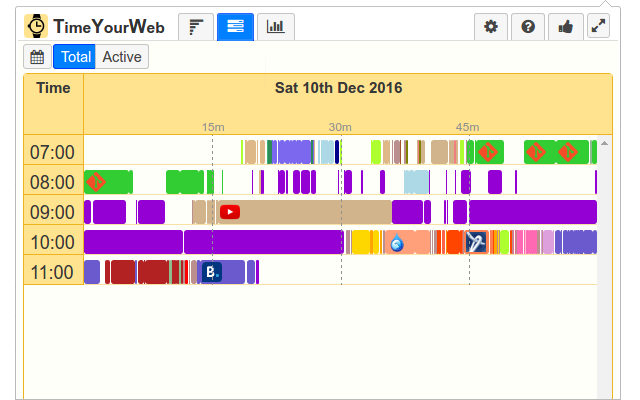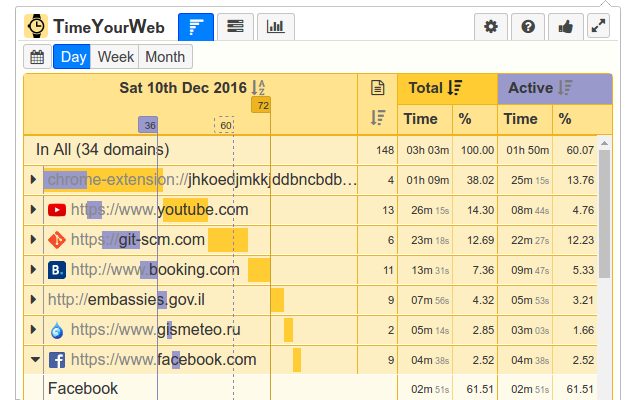 Summary Chart
shows you how much time you spend on Facebook or how long your children watch cartoons per a day / a week / a month.
Flow Chart
helps you to investigate your Internet activity like under the microscope. See when and how long you are watching any page.
Stacked Chart
gives bird's-eye view to your Internet activity. See how your Internet activity changes during a month.
TimeYourWeb is the most detailed time tracker Chrome browser extension.
Order domains by total or active time or visited pages.
See summary of your activity per a day, a week or a month.
Distinguish "active" and "total" time duration spent on any page.
Know where you were in any moment of a day.
Observer your online habits during the long period.
You can click and revisit any page from your history.
Many users already control their time with TimeYourWeb
TimeYourWeb gives you some crazy detailed charts to see where you're spending your time online: https://t.co/onR2tEaHKt pic.twitter.com/VppmnG1NZx

— Lifehacker (@lifehacker) October 19, 2016
¿Pasa mucho tiempo tu hija/o en #Internet? Compruébalo #controlparental #TimeYourWeb #Chrome #menores #padres https://t.co/GPKL6TSjIz

— Txema González (@Txebilbo) October 25, 2016
Il tempo ci sfugge di mano senza che ce ne accorgiamo ? #timeyourweb può aiutarci a capire come. #timemanagement #befw https://t.co/hmolfLeeh0

— la tartaruga-fio (@latartaruga_fio) November 14, 2016
This week's top downloads: Google Flights, A Sharper Scaling, Note Anywhere, TimeYourWeb, and more: https://t.co/cauJq4i4xj pic.twitter.com/6Cij0SCBx2

— Lifehacker (@lifehacker) October 22, 2016
Time is money. Know how you spend it online https://t.co/Qr0GIS1CY1 #TimeYourWeb #TimeTracker via @Gr1g0ry

— Telma T. (@telmixa_) October 21, 2016
TimeYourWeb - extension Chrome qui analyse le temps passé sur chaque site https://t.co/0iFh9v9iJL pic.twitter.com/TAohSYT5vC

— Christophe Deschamps (@crid) October 21, 2016
TimeYourWeb - 查看你的网页浏览时长[Chrome 扩展] | 每天使用浏览器浏览了不知道多少的网站网页,但是你知道自己每天其实用了多少时间在看网页吗?即使是知道一共看了多久时... https://t.co/0QOhLx4IIg

— 反斗软件 (@apprcn) October 24, 2016
Off Track? Time #Boundaries and #TimeYourWeb to the Rescue! https://t.co/DvgrSg0XVp #timeandtechnology #chrome

— Paula Eder (@PaulaEder) November 7, 2016